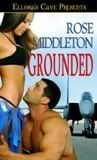 GROUNDED
by Rose MiddletonOf all the clubs in town, she had to dirty dance her way into his…
Other men would do anything to be in Rocket Jones' shoes. Heir to a media empire, CEO of the hottest nightclub, and now, a raven-haired goddess offering him no-strings-attached sex. He's got it made, right? Wrong. Once is never enough. Before he knows it, he's willing to fight through her dark past, family expectations and her career to make her his.
It was only supposed to be one night…
Fighter pilot Robyn Banks is on a mission to satisfy a seriously deprived sexual drive. With ten days to play, she beckons the sexy hunk down from the shadows and gives in to carnal desires. She's under no illusion about her destiny, and it's not with the suave businessman who comes from a world of opportunity. But as the days count down until she must return, Robyn is forced to relive the nightmare that saw her run from her family and for the first time, confront her demons and decide on a future. Can she find a way to combine her love of flying with the man who's stolen her heart?
To read an excerpt, visit
Ellora's Cave
!